I had my first attempt at Saran Wrap nails few days ago (:
Was finally able to snap some photos when the sun came up.
First seen on
blognailedit
, I knew I had to try it when I came across it.
Why? Because it was super easy to accomplish this "messy marbled" look with just Saran Wrap aka Cling Wrap :D
Because it was my first time doing this mani, I decided to go with a "safe" color combination instead of contrasting colors.
On my nails are China Glaze Aquadelic and Essie Play Date.
Aquadelic is supposed to be a teal color. But with Play Date layered over, Aquadelic becomes a lot more blue.
It looks a tad bit dull in the photos because I had Essie Matte About You over the nails.
But I assure you that in real life, it is waaay prettier. Because matte nails are gorgeous.
I'm really loving this whole look, and it kinda reminds me of the Paddle Pop Rainbow Icecream I used to eat (:
Would definitely break out of my comfort zone the next time I do Saran Wrap again, with contrasting colors!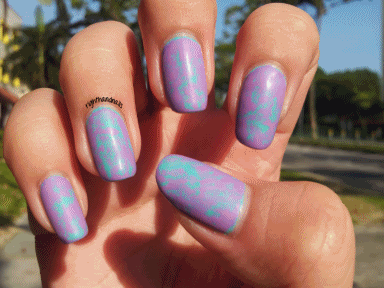 &I decided to tweak the image abit so the colors would stand out a bit more.
Have you tried Saran Wrap nails? And what color combination will you suggest? (: